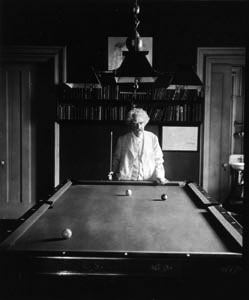 "The report of my death was an exaggeration," he once noted laconically. And yet in the end, it wasn't.
Today is the 100th anniversary of the death of one of my favorite Americans and historical figures – a journalist, author, traveler and philosopher born as Samuel Langhorne Clemens but better known under his pen name, Mark Twain. His work but perhaps more so, the way he lived his life, has been an inspiration for me since childhood.
Twain was an adventurer and explorer. A keen observer, he was convinced that it was a writer's obligation to live life to the fullest in order to have something of interest to say. He was the embodiment of what we now call "participatory journalism".
He was a self-made man who began his career as a typesetter and writer of humorous newspaper sketches. While working as a printer, he educated himself in public libraries during the evenings.
Twain went on to work the treacherous, highly dangerous job of a steamboat pilot, and after talking his brother into joining him, lost him in a steam boiler explosion.
Twain traveled widely and literally circumnavigated the world. He found his wife by falling in love with her photograph and befriended paupers and illiterates as well as intellectuals and royalty. He was an eccentric who in his later years wore only white from head to toe. But he was also a serious journalist, travel writer and documentarian, a book author, and a sought-after public speaker long before there was an industry hyping "media personalities".
He made (and lost) fortunes of money (including his wife's inheritance).
Twain was also a lifelong follower of science. He patented three inventions and was a close friend of the brilliant inventor, Nikola Tesla.
Twain supported women's rights, the emancipation of slaves and the French and Russian revolutions. He spoke out against American imperialism and chastised the inequality of various ethnic groups before the justice system. In general, Twain made fun of mindless bureaucracies and selfish decadence. He was critical of organized religion, but became a Freemason in 1861 at Polar Star Lodge No. 79 in St. Louis. He was raised to the degree of Master Mason on July 10, 1861, but hardly commented on his ties to the fraternity.
Mark Twain's eccentricity extended to his own death. He frequently make sardonic remarks about dying. One time, when he was believed to have been lost at sea, he published a faux article in which he promised to "investigate these reports".
Many of the famous quotes attributed to Twain are somewhat inaccurate renditions of what he really said and wrote. This one here is easily documentable:
Twain had a great fascination with Halley's Comet. He was born during Halley's perihelion of 1835 and predicted his own death to coincide with Halley's reappearance in 1910. And he was right.
http://www.twainquotes.com/Death.html
http://en.wikipedia.org/wiki/Mark_Twain
Book recommendation:
"Mark Twain", by Geoffrey C. Ward, Dayton Duncan and Ken Burns
Based on the documentary film by Ken Burns. Published by Alfred A. Knopf, New York 2001.
ISBN 0-375-40561-5
_______________