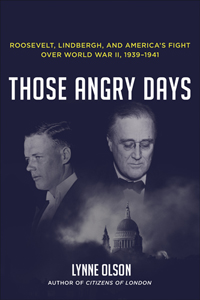 Here's a most fascinating new book by journalist Lynne Olson. As I have outlined in my previous post about Charles Lindbergh, America's entry into World War II was by no means a given, nor was it popular among average Americans before the Pearl Harbor attack.
Olson's book goes into great detail describing the political division between the non-interventionist faction (of which Charles Lindbergh was a major proponent and figurehead) and those who wanted to support Britain — if not with an all-out war against Nazi-Germany, at least with arms shipments.
Olson shines a light on many little known facts, for instance, a huge clandestine British operation to infiltrate US media, spy and discredit leading non-interventionist Americans, spread propaganda materials and even disseminate forged documents designed to draw America into the war. Roosevelt not only knew about these activities, but he also issued a loose directive to the FBI to conduct massive surveillance on non-interventionists from the popular "America First" movement.
Terry Gross (All Things Considered) recorded this fine radio interview with the author.
Those Angry Days
Roosevelt, Lindbergh, and America's Fight over World War II, 1939-1941
by Lynne Olson
Random House, Hardcover, 576 pages; List Price $18.
ISBN-13: 978-1400069743