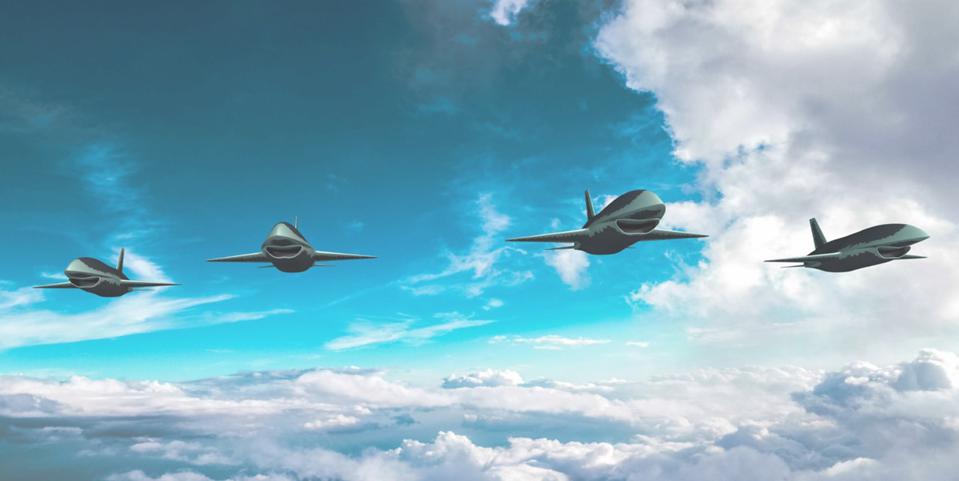 North Carolina-based Blue Force Technologies, a composite aerostructures maker and Boeing supplier, is proposing UAVs which can mimic "the electronic signature, performance and tactics of Chinese or Russian 5th generation J-20 or Su-50 fighters", according to a recent article in Forbes.com.

Named "Fury", the purpose of the firm's design study is to provide a much cheaper training aid for aircrews practicing intercept maneuvers against the latest generation of Russian and Chinese fighter jets. To accomplish this, the Fury UAV will "look, act and smell" like the real thing – at least beyond visual range. The advantage, compared to conventional training against manned aircraft representing the enemy is much lower cost. Many of the Fury parts, including the jet engine, can be sourced from existing, commercial production lines and off-the-shelf parts.
While the advantages for training purposes are obvious, I believe this technology can easily be adapted for another purpose. If drones can be built to simulate enemy fighters to on-board radars, and ground or air based early warning systems, then such drones can also be configured to mimic an F-16, F-15, F-22 or F-35, for example. And this would make it possible to use these UAVs as decoys. They could be sent into contested airspace for the purpose of triggering the enemy's air defense systems.

Once these UAVs are "lit up" by enemy radar and the adversary launches surface-to-air missiles, the locations of mobile radars and mobile missile launchers are much easier to detect. They can be immediately targeted before the enemy can reposition them. Even if such a counterattack is not successful, the enemy will at least have used up some of his surface-to-air missiles to shoot down relatively low-cost drones.

If the technology works and large-scale production can bring down the cost, the introduction of large numbers of such decoy drones into a contested airspace could thoroughly confuse and disrupt hostile air defenses. Concealed among many decoy drones, the "real items" would be ready to strike the enemy's air defenses while they are distracted and triggered by the decoys.

This is an emerging defense technology worth keeping an eye on.